Plexiglass in Columbus, Ohio
Elevate Spaces with Custom Plexiglass Solutions in Columbus, Ohio
At American Plastic, we bring your creative visions to life with our unparalleled custom plexiglass solutions in Columbus, Ohio. As a leading provider of top-quality plastic products, we specialize in crafting bespoke plexiglass designs that cater to your unique needs. From stunning displays to functional enclosures, our expertise knows no bounds.
Discover Endless Possibilities with Custom Plexiglass Creations
Imagine the possibilities when you partner with American Plastic for custom plexiglass in Columbus, Ohio. Our dedicated team of skilled artisans combines craftsmanship with innovation to produce a wide range of solutions tailored to your specifications. Whether you're seeking elegant retail displays, protective barriers, intricate signage, or stylish furniture accents, our custom plexiglass offerings transform your concepts into reality.
Tailored Solutions for Every Need
At American Plastic, we take pride in offering a comprehensive suite of custom plexiglass solutions to cater to various industries and applications. Our expert craftsmen work closely with you to design and fabricate plexiglass products that align seamlessly with your requirements. Our offerings include:
Retail Displays: Enhance your storefront's visual appeal with eye-catching custom plexiglass displays that showcase your products in style.
Protective Barriers: Create safe and inviting environments with our durable plexiglass barriers, perfect for retail, offices, and public spaces.
Decorative Accents: Elevate interior design with custom plexiglass accents, such as room dividers, signage, and decorative panels.
Furniture Elements: Design innovative furniture pieces that combine form and function, from sleek tables to modern chairs.
Artistic Installations: Turn your artistic visions into reality with intricately crafted plexiglass installations that captivate and inspire.
Elevate Your Space with American Plastic
Transforming your ideas into tangible, custom plexiglass solutions is our passion. We leverage advanced technology and industry expertise to deliver products of uncompromised quality and craftsmanship. When you choose American Plastic, you choose innovation, precision, and unmatched dedication.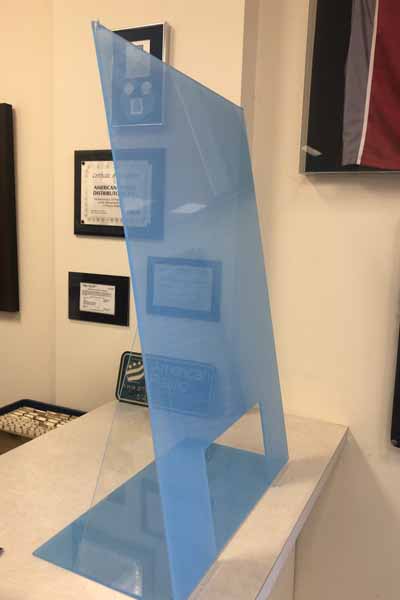 Contact Us Today and Get Custom Plexiglass in Columbus, Ohio
Ready to bring your creative concepts to life with custom plexiglass in Columbus, Ohio? Contact American Plastic and discover how we can transform your vision into reality. Our team is eager to collaborate with you, ensuring your unique needs are met and exceeded. Let us create stunning plexiglass solutions that elevate your space and leave a lasting impression.