Plastic Furniture
Have your custom plastic furniture piece come to life! Whether this is a once piece item for your private collection or production for retail, we can help bring your creation to life!
Do you have a distinct custom plastic furniture piece you want to produce? We can help you! Do you have a unique space that needs a custom designed piece? Yes, American Plastics has the ability to help you bring your custom plastic furniture creations to life. We can help you produce custom tables, custom chairs, custom bedroom sets, custom shelves, custom built-ins, and more. Contact us for a quote on your project.
We do not have a minimum order quantity. We work with sheet, rod, and tube plastics for all our fabrication. If we can cut it, bend it, and glue it, we can do it. Extruded and injection molded plastics are not available at this time. Lead times are dependent on the size of the project and the quantity required. For small, custom items, a week to 10 days is typical, larger orders can take 2 weeks or more. On larger runs of a custom project, we will create a prototype for you to review before production of your order begins.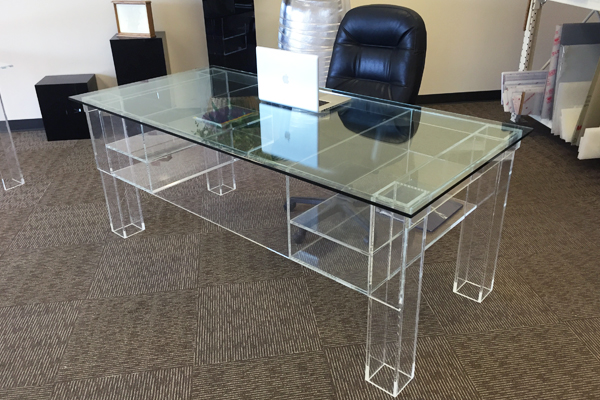 Get a Quote Now!
Contact us today and get a quote for your Columbus, Ohio custom plastic furniture project! We are here to help!