Custom Plastic Fabrications in Columbus, OH
Are you looking for custom plastic creations in Columbus? We bring your customer plastic creations to life If you have a unique design, then we can create it for you!
American Plastics - Your Trusted Partner for Custom Plastic Fabrication in Columbus, Ohio
Are you searching for a reliable and innovative solution for your custom plastic fabrication needs in Columbus, Ohio? Look no further than American Plastics - your one-stop destination for precision-engineered plastic products. With years of experience and a team of skilled professionals, we pride ourselves on delivering top-notch, tailor-made plastic solutions that meet and exceed your expectations. From concept to creation, we are committed to providing you with the highest quality products that elevate your projects to new heights.
Unleashing Possibilities with Custom Plastic Fabrication
At American Plastics, we believe in the limitless potential of custom plastic fabrication. Our cutting-edge technologies and state-of-the-art equipment allow us to transform raw materials into bespoke plastic components for diverse applications. Whether you require precision-machined parts, thermoformed products, or injection-molded items, our expertise spans across various industries, including automotive, aerospace, medical, electronics, and more.
Custom Plastic Fabrication: Your Vision, Our Expertise
One of the hallmarks of American Plastics is our unwavering commitment to bringing your ideas to life. We understand that each project is unique, and that's why we take the time to collaborate with you from the very beginning. Our team of skilled engineers and designers work hand in hand with you, ensuring that every aspect of your custom plastic fabrication project aligns with your vision and requirements.
Quality That Speaks for Itself
At American Plastics, quality is at the heart of everything we do. We adhere to strict industry standards and employ rigorous quality control processes at every stage of production. This dedication to excellence allows us to deliver flawless, high-performance plastic products that stand the test of time.
The American Plastics Advantage
Diverse Plastic Fabrication Techniques: Our expertise covers a wide range of plastic fabrication techniques, including CNC machining, vacuum forming, injection molding, and more. This versatility enables us to take on projects of varying complexity with confidence.

Precision Engineering: We take pride in our precise engineering capabilities that ensure every component we fabricate is manufactured to exact specifications, meeting the most stringent requirements.

Material Expertise: With access to an extensive array of plastic materials, we guide you in selecting the most suitable material for your project, considering factors such as strength, durability, temperature resistance, and cost-effectiveness.

Cost-Effective Solutions: Our team of experts works diligently to optimize production processes, providing you with cost-effective solutions without compromising on quality.

Fast Turnaround: We understand the significance of meeting deadlines. With efficient project management and production workflows, we deliver your custom plastic products within agreed timelines.

Superior Customer Service: Our customer-centric approach ensures open communication channels and responsive support throughout your project journey. We value your input and work together to achieve success.
Applications Across Industries
The versatility of custom plastic fabrication extends to various industries, and at American Plastics, we have the experience to cater to the unique needs of each sector.
Automotive: Our plastic solutions enhance automotive interiors, exteriors, and components, providing lightweight, durable alternatives to traditional materials.

Aerospace: American Plastics contributes to aerospace innovations, crafting precision-engineered components with strict adherence to industry standards.

Medical: From medical device housings to surgical tools, our medical-grade plastics ensure safety, reliability, and compliance with stringent regulations.

Electronics: We provide electronics manufacturers with intricate plastic parts that are essential for cutting-edge devices and technologies.

Consumer Goods: Custom plastic fabrication brings creative designs to life for various consumer products, from packaging to household items.

Industrial: We cater to industrial applications, delivering robust plastic components that withstand harsh environments and heavy usage.
Eco-Conscious Commitment
American Plastics recognizes the importance of sustainable practices in today's world. We are dedicated to minimizing waste, optimizing energy usage, and recycling materials wherever possible. Our eco-conscious approach not only benefits the environment but also aligns with the responsible choices that our clients seek in their plastic fabrication projects.
Let's Transform Your Ideas into Reality
Join the ranks of satisfied clients who have experienced the American Plastics advantage. From prototyping to full-scale production, we are here to collaborate with you, ensuring the success of your custom plastic fabrication project in Columbus, Ohio, and beyond. Discover the endless possibilities and unleash the power of plastics with American Plastics today.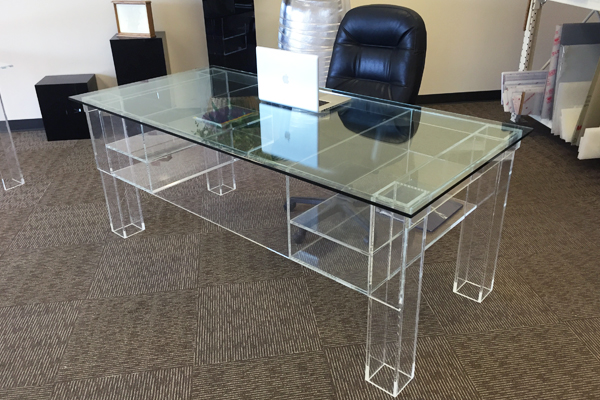 Get a Quote Now!
Contact us today and get a quote for your Columbus, Ohio custom plastic fabrication project! We are here to help!
Custom Plastic Fabrication in Columbus, Ohio
Average rating: 0 reviews